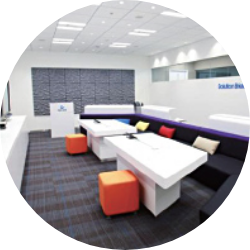 Introduction to Facilites
Solution Briefing Center
Conducting demonstrations of next-generation ICT infrastructure composed of cutting-edge multi-vendor devices
Demonstrations of remote data center links for private clouds, business continuity and disaster response, and work style innovations can be experienced not only at the center, but also at other business sites and at customer facilities.
Because these solutions have all been tested and verified, they can be introduced rapidly when the decision to adopt them is made.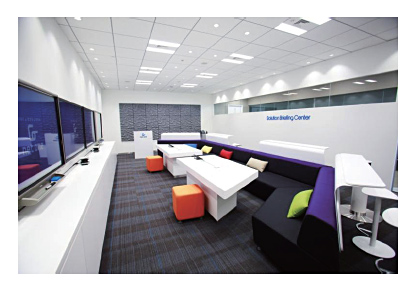 Technical Center
One of the largest network technology research facilities in Japan for evaluating and validating the function, performance, interconnectivity, reliability, and other factors of advanced technologies from overseas and vendor products before introducing them to the market
Also capable of faithfully reproducing actual customer products and materials for validation.
Equipped with an open validation room that can be used by customers and manufacturers.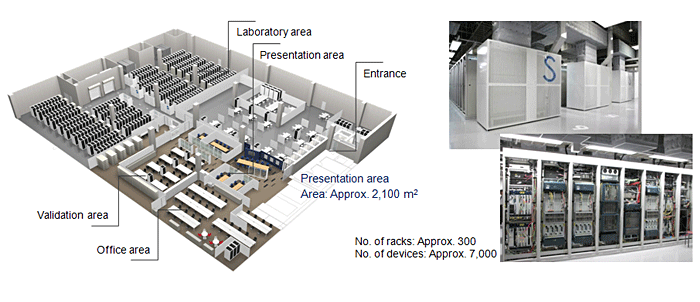 Quality Control Center
We have constructed a large-scale facility and an original system for inspection by specialist engineers so that we can deliver quality to the customers with confidence.
In addition to inspections at product receiving and shipping, the quality of maintenance service parts and materials is also inspected, and only those verified as good are readied and shipped.
Maintenance parts and materials are optimally placed at distribution sites across Japan, and orders are shipped within approximately 2 hours.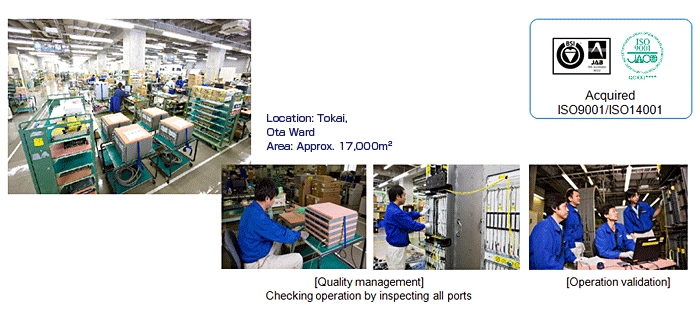 Expert Operation Center (XOC)
One of the largest operation centers in Japan, supporting network availability 24 hours a day, 365 days a year

In addition to device alive monitoring and performance monitoring, we offer total support covering incident response, operations for delivery of maintenance parts and materials, and operating system construction and validation prior to service launch.
79 operators and supervisors are backed up by a 150-member logistical support team for technical escalation.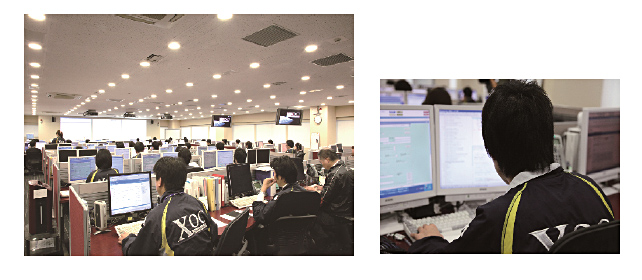 Network Academy
This personnel training institute aims to improve the technical capability of the industry as a whole, with a training program that collects the advanced technologies and extensive expertise that have been developed by Net One Group.

A full training program is available, including original courses using the latest equipment for rapid acquisition of strategic skills, courses to support acquisition of vendor certification, and special courses to meet customer requests.
Internet working courses
Original Network Academy courses
Job-oriented courses where participants quickly learn skills that they can immediately put to use in the workplace
A full range of programs is available, from LAN basics for beginners to courses for engineers seeking to acquire Cisco CCIE certification.
Vendor certification courses
Learning partner for Cisco, Juniper, Brocade, Citrix, Paloalto, and VMware certification
High-quality courses incorporating unique Net One practical elements, taught only by instructors that have been officially certified by each company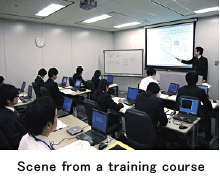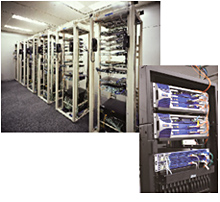 Course format
Regular courses

Regular courses held in our company's seminar rooms (Shinagawa, Tokyo)
Applications can be accepted for as few as one person.

Special courses

We systematically and continually propose, carry out, and follow-up a personnel training strategy for the customer.
Qualification courses and courses for operation of introduced products, tailored to meet customer requests

Learning is possible anywhere in Japan using the same equipment environment that is used for training in the Tokyo area.
Courses specialized for the customer's particular network and technologies