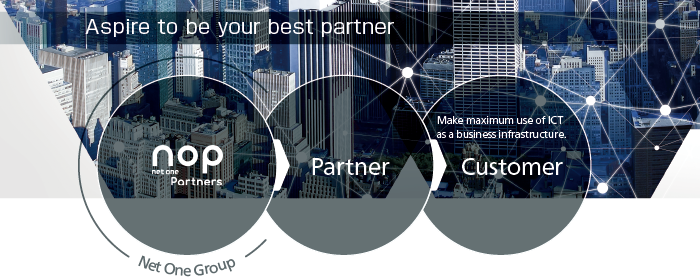 "Trust" and "Performance" together with you
"Together with our partners, Net One Partners contribute to successful business, corporate growth and social development by providing "high value added" ICT solutions backed by the highest level of technical capabilities and support system in Japan."
This is our "trust" and "performance" Net One Group has developed over 25 years, that Net One Partners will everlastingly continue to pursue.
Net One Partners contribute to improve both partners and customers' business by finding the best answer to the ever-changing ICT market and business environment.
Value
[ Trend ]
To be always conscious of the latest technologies and market trends, providing the best solutions that meet customer needs by introducing highly esteemed products, solutions and vendors to our partners.

[ Alliance ]
Support our partners in finding new market and customers, inbound and outbound business and developing mid-market channel with business developments and arrangements that cope with diverse market needs.

[ Support ]
Provide total support to our partners from pre-sales to post-sales based on high technological skill, know-how and technical facilities, which are one of the largest operation centers in Japan.
Solution
Provide advanced ICT solutions with trust.
Internet of Things (IoT)

IoT brings forth new values and economic effects to the society by synergy effect generated from connecting various devices to the Internet.

We provide the best solutions to advance utilization of ICT in various places such as industrial network, transportation/city infrastructure, physical security and entertainment field.

Data Center

Starting with private cloud and services, we provide data center solutions focused on servers and storages that meet customer needs and our partners characteristics.

We help our partners with construction, operation and total optimization of ICT infrastructure in order to cope with the changes in business environment.

Unified Collaboration

The latest unified collaboration solutions for realizing a high productive work- style free from location or time constraints that includes video, phone, mobile, solutions, smart device, and group.

Network

Construction of both wired and wireless networks among wide variety of clients ranging from corporate networks, academic/municipal networks to telecommunication carrier networks.

Net One Partners also provides e-commerce, e-government services, voice communication, video broadcasting, cloud network and many others with our reliable technology.

Security

Broad lineup of security products tailoring individual needs, ROI goal and protection against the expanding threats to security increasing with the use of the cloud and mobile networks.

Our service covers network design, construction, operation and post-installation support/training in one stop.

Services

Advanced technical support for all stages of the ICT platform life cycle, from consulting-based system proposal, system construction, operation and maintenance to optimization based on feedback obtained from operation.